Sigma Alpha Epsilon's Miss Minerva raises over $11,000 for CHOC Children's
On March 8th, Ashley Chiang was crowned Miss Minerva by UC Riverside's Sigma Alpha Epsilon Chapter. This honor reflects weeks of fundraising and support by the sorority chapters for SAE's philanthropy, Children's Miracle Network Hospitals. Ashley celebrates as the third member of her Delta Gamma chapter in a row to win this honor!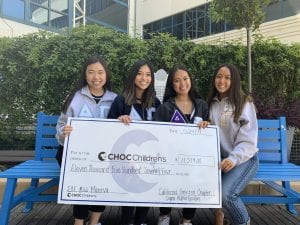 Ashley, and some of her Delta Gamma sisters visited CHOC Children's on May 24th to present the hospital with a check for $11,574. When asked about her experience touring CHOC Children's, Ashley shared:
After visiting the different departments that the funds were being allocated towards, my peers and I felt very touched at just how much CHOC cares for the well being of their patients. When we visited the oncology department we teared up a bit because one of our building mates in our dorms just got diagnosed with possible pancreatic cancer. Just knowing that it can be scary going through it alone makes it so heartwarming to see how intentional all of the procedures and rooms are made for each patient. A lot of planning that focuses not only on the physical well being but also the mental and social aspects that go into being a child is really something so wonderful at CHOC. We all even talked about possibly trying to volunteer at CHOC in our upcoming years in college. Although our initial tie to CHOC was through the SAE Philanthropy Event that our sorority won, it's amazing to see just how purposefully our money is going towards those in need. Thank you so much for this opportunity again and we would love to see you all again sometime in the future! If you ever need a helping hand we would love to come back 🙂
About SAE
Sigma Alpha Epsilon, founded in 1856, is one of the nation's largest national social fraternities, with 237 chapters and colonies and approximately 15,000 collegiate members and 200,000 living alumni. Our creed is known as "The True Gentleman," and our mission is to promote the highest standards of friendship, scholarship and service for our members based upon the ideals set forth by our Founding Fathers and enunciated in our creed.